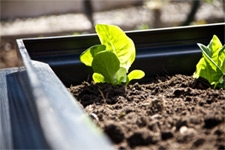 The Molluskit kits
The kit is very easily assembled. Starting with a corner comb sections, simply slot the ground panel into the comb and interlock the sections together until you have a complete enclosure.
Prices inclusive of VAT.
For larger gardens or allotments simply choose multiple kits or please contact us for any special projects. We will happily design to suit your requirements.
Product details
Colour: Black
Material: Rigid PVC majority recycled
Dimensions


Small Ground Insert Sheet
L 383mm x H 170mm


Large Ground Insert Sheet
L 1m x W 2mm x H 170mm


Twin Corner Comb Section
L 1m x W 120mm x H 67mm


Corner Comb Section
L 1m x W 120mm x H 67mm


Straight Comb Section
L 1m x W 120mm x H 67mm


Straight Connector
L 50mm x W 5mm x H 22mm


Corner Connector
L 22mm x W 5mm x H 22mm